These pages are dedicated to the many who have permanently showed their brand loyalty to us. If you know someone who has our logo, or one of our t-shirt images on their body please tell them to send in a pic and we will get it posted up. It is mind blowing how many customers have branded themselves with our company name with pride. Enjoy.
WOW a PHIL FOWLER TATTOO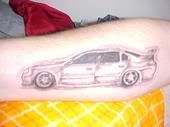 f
VC BABY! AZ PREZ TOTTY!
This tat is killer. We always wanted to see it as a tat.
This is a chicks tat! NICE
THIS IS ON A CHICK! AWESOME